Food waste recycling for your business
Recycling your food waste is easier than you think!
Wet food waste
Pho Restaurant, Brighton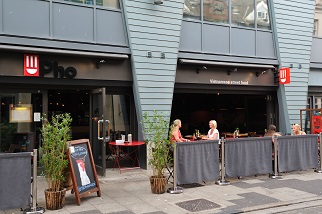 "The high amount of wet food waste was our biggest issue but this has been sorted out using very simple but effective measures."
Background
A large Vietnamese restaurant serving around 400 meals per day 7 days a week from 12:00 – 22:00 in an open plan kitchen/dining area with a maximum of eight chefs and two kitchen porters.
Why we recycle food waste
We began separating food waste for recycling because we were approached by a new waste company who could offer us a food waste recycling collection alongside our regular rubbish collection. We have all been recycling our food waste and other materials at home, so doing it at work seemed the natural progression.
How it works
Chefs select containers appropriate to the task that they need to carry out and put their food waste directly into that – usually a bowl or a gastronorm container and then empty this into the larger food waste bin in the wash-up area.
We make a lot of fresh stock for our noodle dishes, so we have quite a lot of waste bones which are bulky. The chefs wheel the food waste bin into the kitchen from the wash up area so they can throw the waste bones in directly from the cooking area. Our plate waste tends to have a high liquid content, especially from bowls of noodles, soups and our specialist teas. In order to overcome this problem we put a sieve over the waste sink so waiters tip the returned bowls into the sieve which collects the solid waste and is emptied by the kitchen porter into the food waste bin during the day.
Kitchen porters wheel the food waste bin to the main bin store located in a private underground car park as often is they think is necessary judging by how full the bin is and how busy the restaurant is going to be, but always try to do this either when the restaurant is closed or when it is quiet as the bin needs to be wheeled through the dining area. The restaurant has a key to access the car park as does the waste collection company. The full food waste bins are collected and replaced with clean empty bins by the collection company who also collect other recycled waste and rubbish three times a week.