Food waste recycling for your business
Recycling your food waste is easier than you think!
Reducing food waste
The Table, London SE1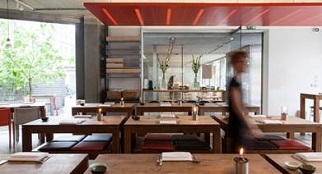 "As soon as chefs started to separate out the food waste, they were physically more able to see what was being thrown away and this made them instantly less wasteful which helps to improve gross profit margins."
Background
We are a busy restaurant located in central London on the south bank of the River Thames serving on average approximately 275 meals per day from breakfast through to dinner seven days a week. Fresh food is prepared by chefs daily from the small galley–style kitchen which is on full view to diners. There is limited space for waste both inside and outside the business.
Why we recycle food waste
We have a strong belief in sustainability, which includes the way we deal with waste, so were keen to take part in a trial food waste collection scheme set up by the local business improvement district (BID). We have been recycling our food waste ever since.
How it works
Food waste is separated out into 3 lined floor–standing caddies which take up 320 x 400mm floor space and are moved to wherever they are needed by the chefs or kitchen porters. The kitchen porters monitor how full the food waste bins become and empty them as required – at least twice a day. The caddy lids are put into place and the handles are used to carry the bins through the restaurant to the main bin store outside – the only way out. The food waste is emptied into wheeled bins which, at the end of service, are wheeled to the kerbside for a collection in the early hours of the morning along with the mixed recycling and rubbish collection. Collections take place daily Monday to Saturday.
Making it affordable
Initially we found it difficult to find a reliable, cost-effective food recycling collection service; it was only when Better Bankside, the local business development support group, got involved that it became a practical option because they provided the service we needed at the right price.
Getting staff on board
Once the system was up and running there was immediate buy-in from the staff who had already questioned why our food waste was not already being recycled.
We found that when chefs began to separate their food waste they had a visible reminder of what was being thrown away, so they became less wasteful in their food preparation.
Practicalities
We have on–going challenges to do with vehicle access into the area due to a considerable amount of construction work which blocks some access roads. Our arrangement with our collector means that it is important to inform them of any restrictions or changes so that we can work out what arrangements are best for both of us.