Food waste recycling for your business
Recycling your food waste is easier than you think!
Michelin star kitchen
Le Manoir Aux Quat'Saisons, Great Milton, Oxfordshire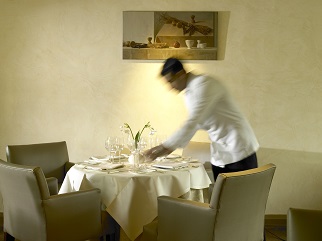 "Food recycling is close to M. Blanc's heart, so it was important for us to make sure we had the right facilities to separate out the different foods that we recycle"
Background
A luxury hotel with a Michelin starred restaurant located in beautiful gardens operating 7 days a week for breakfast, lunch and dinner, as well as functions in total serving around 220 meals per day; there is also a cookery school. There are around 36 chefs in the kitchen brigade plus 5 kitchen porters.
Why we recycle food waste
Food waste recycling began 28 years ago when M. Blanc started to use waste vegetable matter in his kitchen gardens and has developed from there. M. Blanc was brought up not to throw anything away that could be used and has retained that philosophy in the hotel.
How it works
The bespoke kitchen includes food waste bins that are built into kitchen units with an opening at the top through which chefs throw their waste; a door to the front of the unit is opened to remove the food waste container after service. Chefs carry out preparation at their work station and simply discard the food waste directly into the bin housed underneath. The cookery school and tea and coffee areas use smaller containers such as bowls on the worktop. Green waste derived from fruit or vegetables grown in the kitchen gardens are further separated so that this material can be recycled back into compost in the site's own compost heap.
Chefs on each section are responsible for cleaning and emptying food waste bins at the end of each service which is usually 2 – 3 times per day. Waste is taken to a bin store immediately outside the back kitchen door where it is placed into the relevant bin. The garden team then collects the waste and transports it to the main recycling centre where it is collected from 3 – 4 times per week by a company who take all recycled material and rubbish.
Getting staff on board
A 'Green Team' made up of representative staff from all departments discuss issues of sustainability and recycling and will raise any problems with food waste collections at this point. Information is shared with staff at section meetings as well as on a notice board in the kitchen.
Practicalities
Our main consideration in setting up the food waste collection system was to ensure that it did not adversely impact on our guests. The bin area is fenced off from view and the food waste placed into a cooled bin store to prevent potential odours, particularly in warmer weather. Collection times also had to be adjusted so as not to disturb sleeping guests.