Food waste recycling for your business
Recycling your food waste is easier than you think!
Limited space
Infinity Foods Café, Brighton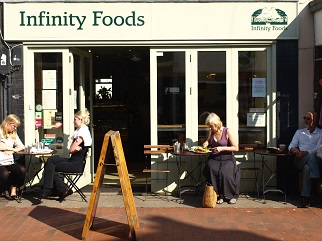 "We have very little space inside and out, so it was important for us to find a practical solution to accommodate food waste recycling bins. We get through a lot of 25kg tubs and found they make ideal food waste bins. Storing them on top of our floor standing rubbish bins means they take up no additional space."
Background
An established organic vegetarian food café serving fresh food during the daytimes only, seven days a week in a busy area of Brighton. The café serves on average 120 meals per day with greater demand at the weekend. Four chefs operate from an extremely small kitchen in the basement of the building but also manage to produce cakes for retail sale. The business operates as a co–operative, so all employees have input into how the café is run.
Why we recycle food waste
We have been recycling food waste since the café was first set up as an off–shoot of our nearby shop which already had a food waste recycling system in place. Food recycling was something we all had wanted to do as a co–operative and forms part of our business culture.
How it works
We re–use clean 25kg plastic tubs with carrying handles to collect our food waste. As we are tight on space we insert the plastic tubs into the top of the floor–standing rubbish bins so that the food waste bins do not take up any additional space – if we want to throw any rubbish away we simply lift the tub out of the way. The counter staff collect the food waste bins at the end of service and, using a collapsible trolley which stays in the kitchen, wheel the bins to the main bin store. The food waste is put into a 120 litre brown wheeled bin lined with a biodegradable bag and clearly labelled for food waste only. Food waste bins are collected at the same time as other recyclable waste and rubbish by the same collector. They are replaced by clean, empty food waste bins.