Food waste recycling for your business
Recycling your food waste is easier than you think!
Keeping things simple
Fishy fishy, Brighton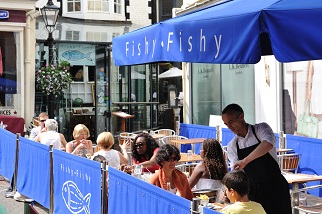 "You can have neon signs, the best bins and all of the extras; but you have to have your people to believe in it to make it work. It's not hard!"
Background
A seafood restaurant serving around 185 meals a day from lunchtime through to midnight, although these figures can be a lot higher in the summer season, during bank holidays and at weekends. Around 7 chefs prepare fresh food daily supported by two kitchen porters.
Why we recycle food waste
Sustainability is at the core of the business so we have wanted to recycle food waste for some time. The collection company approached the business with a complete waste collection service which incorporates food recycling, so we decided to take up their proposal.
How it works
Food waste is emptied directly into slim floor standing bins, each lined with a biodegradable liner. There are three food waste bins around the kitchen so that chefs have to seek out the correct bin for throwing food away – the idea is that this makes the chefs consider the process more. The use of bin liners means that internal bins don't require cleaning on a daily basis – every other day is often enough. Emptying the kitchen food waste bins is not anyone's set job, so whoever is going on a break or the last person leaving for the night takes the bins outside which seems to work well. Kitchen food waste bins are emptied into bulk wheeled bins outside as necessary between 1 to 4 times per day. Food waste collection days vary according to the time of year, but in quieter times is 3 days a week; a notice is on display in the kitchen to remind staff which bins are to be put out on what day.
The wheeled bins are taken to the front of the restaurant at night by the kitchen porters where they are left on the kerbside for collection; a message is left on the answer phone of the collection company to let them know how many bins have been put out to ensure the correct amount are returned. The waste contractor collects and replaces the bins with clean empty bins so the business does not have to wash them on site.
Making it affordable
Cost was the most important consideration but, as our food waste recycling collection is charged per bin, the slightly higher costs in the summer due to using more bins, is offset by lower winter collection costs.