Food waste recycling for your business
Recycling your food waste is easier than you think!
Business reputation
Café ODE, Shaldon, Devon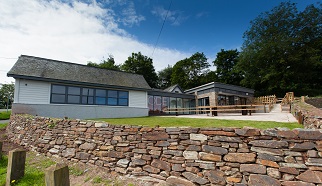 "We inform our customers about our green initiatives, including food waste recycling, as we think they will find this interesting and it fits well with our overall approach to environmental issues. We share information on our website as well as using posters, blackboards and tent cards to get the information across. I believe our attitude to recycling and sustainability helps to bring our customers in"
Background
We are a family–friendly Café in a rural setting on the coast serving fresh food. We provide around 120 meals per day over breakfast, lunch and dinner, six days a week although business is seasonal. We have two chefs and one apprentice who work in the kitchen. We have a number of awards to our name including Sustainable Restaurant of the Year 2013, CSR and Environment winners at the Eat Out Awards 2013, Sustainable Food finalist at the Sustainable City Awards 2013, and Food Farming and Community finalist at the Devon Environmental Business Initiative Awards 2012.
Why we recycle food waste
We started because it's central to our business ethos – to have as low an impact on the environment as possible.
How it works
Members of staff choose a container to use on their work bench to collect their food preparation waste. This waste is then thrown into a larger bin lined with a biodegradable liner in the wash up area. The larger bin is emptied by any of the members of staff a couple of times a day. Food waste is stored in wheeled bins in the outside bin store where it is collected at the same time as the other recycling by the same contractor.
Customers are asked to separate their waste including food, boxes, packaging and cutlery using the bins provided – everything is composted. We have so many recycling bins for customers' use; it's hard not to notice them! We have a great deal of information on recycling all around the property including on the walls.
Making it affordable
All of our recycling costs are built into our pricing structure but we make savings on the cost of labour on dishwashing (everything is composted); and associated water, energy and detergents costs.
Getting staff and customers on board
One of the main issues to overcome was to make sure that staff and customers dispose food and packaging into the right bin; we achieved this by training the staff on the job, leading by example and by providing lots of information, signs and labels for the customers. The high level of visual awareness of recycling throughout the business makes it almost impossible not to notice.