Food waste recycling for your business
Recycling your food waste is easier than you think!
Fitting food waste bins into your workspace
Will I need special bins?
Your recycling collector will provide the bins you need to present your food waste in for collection; but the type of containers you use to separate food waste in your kitchen is up to you
Indoor food waste container options
Worktop
Existing equipment or containers (such as trays, empty food containers, buckets or bowls etc.) are commonly used to separate food waste in preparation areas. These smaller containers can be emptied into a larger food waste bin located in a convenient central position and are easily cleaned. If preferred, small worktop caddies can be purchased (from your recycling collector, or from a bin supplier).
Floor standing
Container types commonly used for larger amounts of food waste include:
Worktop-height 'slim' style bins designed to take up minimal floor space - available with or without a lid;
Foot operated pedal bins that keep the lid in place when not in use;
Traditional old-style plastic rubbish bins that can accommodate a large amount of waste;
Caddies with a carrying handle, which will usually require a liner.
If you decide to use a floor-standing bin, make sure you select one at the correct height so that people do not have to bend over to use them. If you are in the position of having a new kitchen designed you can 'build in' your food waste bins with a small opening in the work top above.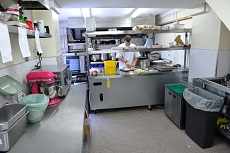 Where should I locate my food waste bins?
Outdoor
Try to locate the main bin store as close to the kitchen as possible. If this is not possible, try to identify an area where food waste may be temporarily stored before moving it to the main bin store.
The frequency of collection will impact on storage space required.
Indoor
Put food waste containers as near to where the waste is produced as possible. The best areas include preparation benches, plate return/plate scrape area, areas used for tea and coffee making, bars, and cooking stations.
It may be easier to use small containers, e.g. empty plastic food tubs on a worktop for preparation waste and to empty these into one centrally located kitchen food waste bin when full.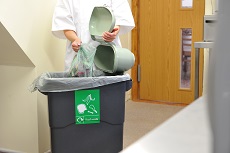 How many bins will I need?
Outdoor
Depending on how your recycling provider collects food waste (in wheeled bins, bags, or caddies) they should be able to advise how many you will need collecting.
Indoor
For the containers you use in your kitchen, think about the space you have available, the type and quantity of food waste produced in each area and how frequently the bins will be emptied. It may be better to have more small bins that are easy to handle than one or two large bins that become a problem to move.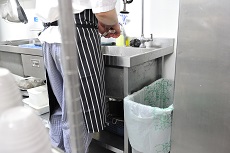 Do my food waste containers need a lid?
Outdoor
All outdoor bins need to have lids to comply with Animal by–products regulations.
Indoor
As food waste bins are often in constant use in food preparation areas, it's impractical to have a lid in place at all times. Lids can be an area for cross-contamination so, if you wish to provide a lid for your food waste bin at all times, consider using a foot-operated pedal bin to limit hand contact.
When moving the food waste from the kitchen or restaurant area to the main bin store it is a good idea to cover the waste or make sure it's properly wrapped to prevent spills/drips and inadvertent cross-contamination.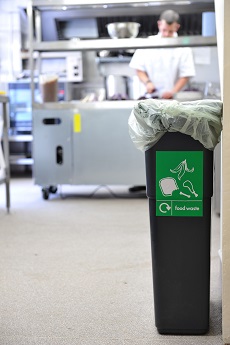 Should I use liners?
Check with your collector whether your food waste needs to be presented in liners and, if so, whether the liners need to be compostable or clear plastic.
Liners keep bins cleaner, however all bins still should ideally be cleaned daily to remove any splashes, sticky patches and to disinfect hand touch points.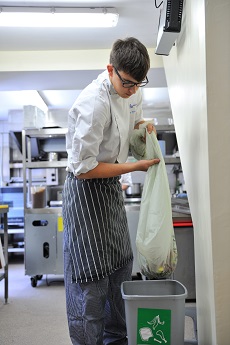 How often should I empty my indoor food waste containers?
Try to empty food waste containers after each service; this keeps the bins as light as possible and reduces the amount of time the food waste is in the kitchen.
Don't overfill your food waste bins as they can get heavy very quickly. If your waste is very wet, use a strainer to separate the solids from the liquid in the waste sink before putting it in your food waste bin. This will make your bins lighter to empty and could reduce the size or number of bins you are charged for by your collection company.
When you are taking food waste from the kitchen to the main bin store, keep it covered or properly wrapped to prevent spills. Consider the use of trolleys for moving heavy food waste from the kitchen to the main bin store, especially if you have some distance to travel.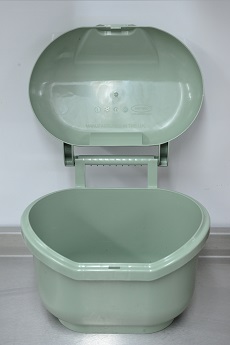 How often should I clean my food waste bins?
Indoor
Include the cleaning of food waste containers in the kitchen on your daily cleaning schedule so that it forms part of your food safety management system. If you use lidded food waste bins make sure that you adequately disinfect any hand contact surfaces or touch points.
Outdoor
Don't forget the periodic cleaning of the main bin store. Some recycling contractors offer a cleaning service, or a "bin swap" system, leaving you a clean bin after each collection.
Always wash your hands at the wash hand basin after handling food waste and waste bins to prevent cross contamination.