Food waste recycling for your business
Recycling your food waste is easier than you think!
Small quantities and joint collections
Working co–operatively with other businesses to organise a recycling collection for food waste (and other materials) may reduce the cost of the service. This can be particularly beneficial if you produce small quantities of food waste (less than the equivalent of half a wheeled bin each week), which it might not otherwise be cost–effective to recycle separately. Joint collections could be undertaken with one collection point and a single contract in place, or with several collection points for a cluster of businesses with individual contracts.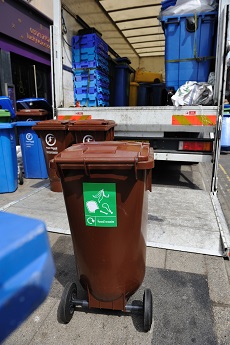 Organisations which might be able to assist you with setting up a shared food waste service include Business Improvement Districts, landlords, and trade associations.
Key issues to consider are:
What contracts other businesses already have, including their duration and termination policies
What the implications might be if one (or more) business stops using the service
If you organise waste to be collected on another business's behalf, you need to be registered as a waste broker.
If someone else is moving waste on your behalf, check that they are registered to do so.
If waste is being combined by a number of businesses, then the site where the materials are being stored may require a permit or exemption for the storage and/or keeping and treating of waste. Site specific regulatory advice should be sought before any waste is handled in this 'collective' manner.
Further information on regulatory issues is available from: