Food waste recycling for your business
Recycling your food waste is easier than you think!
Who to involve
It is a good idea to get people involved with a new initiative from the beginning so that when the system is introduced they will be aware of what to expect and will work with it more effectively.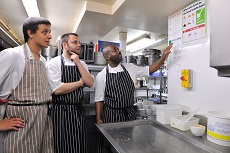 There will be a range of interested people depending on your type of organisation, so consider:
Chefs and kitchen team - chefs will know exactly where, when and what type of food waste is created so they can help come up with a suitable system to separate food waste. They will also know which days would be best for a collection, e.g. getting food waste collected prior to busiest days.
Kitchen porters/Catering Assistants and Cleaners may have responsibility for moving the rubbish so think about their requirements e.g. Do they need wheeled bins? Would a trolley be more suitable? Make sure the bins don't get too heavy to lift .
Front of house - if you want the bar or service staff to join in, make sure the system fits in with their requirements e.g. containers on view will need to look tidy, establish responsibility for emptying the containers, think about how much space is available etc.
Customers - if you have a self service restaurant and would like customers to clear their own plates, make sure they have enough space and containers to separate food waste from cutlery and crockery etc. Make it clear to customers what they need to do by providing signs.
Director(s)/Owner/Manager/Bookkeeper will need to be involved if it means new contract terms and could be useful in providing you with existing cost information.
Help with ideas for briefing staff, making the business case to managers and providing clear signage are available here.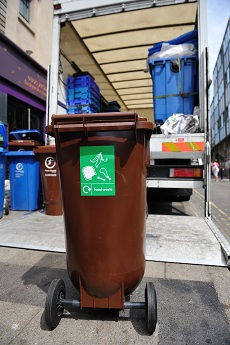 Other people to consider
Landlord - there may be restrictions on waste storage and collection, so make sure your plans don't fall foul of any tenancy agreement.
Neighbours - there should be little additional impact on your neighbours, however you do need to consider residents and other non-food businesses who may have concerns about smells and how the bin stores might look. Solutions to preventing such concerns include writing to neighbours to inform them of the changes and the measures you are taking to prevent a problem from arising, e.g. regular collections at suitable times, lids on bins to prevent smells, regular cleaning etc.

Neighbouring hospitality or retail businesses may also be interested in joining in with a food recycling scheme, especially if you share a bin store.